This is a continuation from the first part previously published last April 16, 2019 (see link ).

The Golden Years of Philippine Railways (1950s, 1960s and 1970s)
After World War II, the Philippine railways was rehabilitated by the U.S. Military before the Philippine independence of July 4 1946. The U.S. Army had paid a total amount of US$ to compensate for the use of the railway for transport of men and equipment during World War II in Asia - Pacific region (1941 - 1945). Surplus of equipments
By 1950s, the MRR fleet of trains shifted from steam engines to diesel powered engines. Later on, the company was given charter under
Republic Act 4156
, creation of the modern-day Philippine National Railways (PNR).
The Light Railways of the 1980s
During the Marcos regime, President Marcos would be credited for the establishment of Manila Light Railway Transit Sytem Line 1 or "LRT 1" for most of those living in Metro Manila which starts from Monumento Station, Caloocan City to Baclaran Station in Pasay City. The Central Terminal to Baclaran route was inaugurated in 1st of December 1984 and an extension connecting from Central Terminal to Carriedo Station going to Monumento Station was formally opened on 12th of May 1985.
The Formation of NORTHRAIL (1990s to Present)
Based on the 2015 Annual Report of NORTHRAIL, had plans in revitalizing the railways system and expanding to other areas within 10 to 20 years.
In September 1994, there have been talks with a lot of multinational companies and negotiation in the development of mass railway transport system in the country, a Memorandum of Understanding (MOU) was signed between Bases Conversion and Development Authority (BCDA), Spanish Railways Group (SRG) and EUROMA Development Corporation with the plan to connect Clark Special Economic Zone in Pampanga to Fort Bonifacio in Taguig City. This project will be known as Manila-Clark Rapid Railways System (MCRRS).
By 10
th
of June 1995, a joint venture agreement was setup in with these companies including government agencies that formally formed North Luzon Railways Corporation or "NORTHRAIL". Subsequently, Northrail was incorporated by with 100% shares with BCDA.
However by 2000. SRG and EUROMA Development Corporation's plans was scrapped due to problems encountered by the European based company due to lack of funds. By 2003, China Export Import Bank was the partner in establishing the railway but was marred with anomalies and unscrupulous transaction entered by President Gloria Macapagal-Arroyo's administration without proper government bidding and overpriced construction (
see link
) which was later scrapped in 2006 due to Supreme Court ruling filed by Makabayan bloc.
As of this writing, the train revival is a dream come true for most of us travelling to and from Manila. It is a worthwhile to see through our destination with ease and lesser traffic on the roads of EDSA and major thoroughfares of Metro Manila streets. The start of the Build, Build, Build program by the current administration's intention of easing the traffic in National Capital Region and connecting the railway to Southern Luzon (
see link
).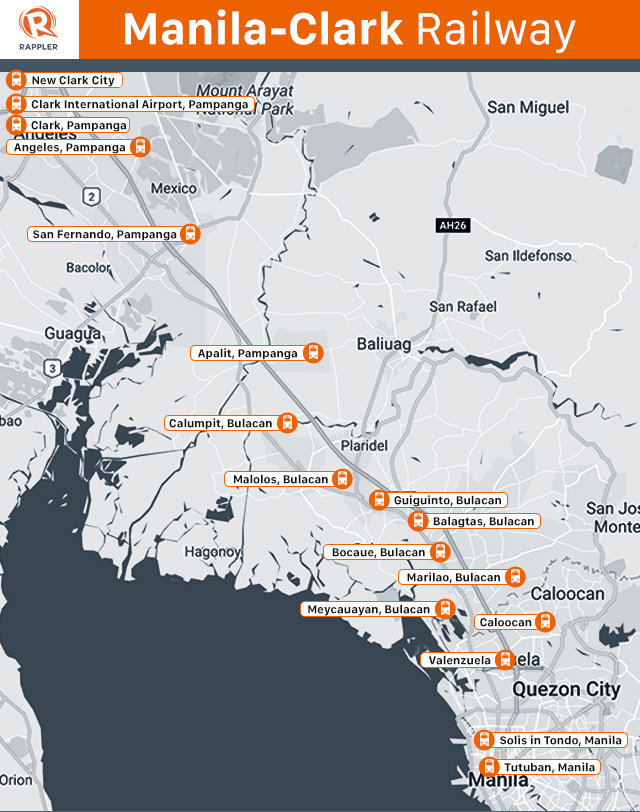 Conclusion
Building a strong nation requires a lot of infrastructure investments in this country urban planning should have been done just to complement the developments happening in our country. Building an efficient and effective railway system is one of the agenda of this government on mass transportation for the people of the land lessening traffic which cost billions daily according to a JICA study in 2015. This in turn should be sustainable for the growth of the Philippine economy.
About the Writer
CRB Benedict Baluyut
is a professional real estate broker, real estate appraiser and associate of C. F. Baluyut Realty. He is currently the Vice President for External Affairs, Real Estate Brokers Association of the Philippines, Inc. (REBAP) - Pampanga Chapter. You can get in touch with him at
https://www.cfbaluyutrealty.com
.
Copyright 2004 - 2019 C. F. Baluyut Realty | Real Estate in Pampanga, Philippines. All Rights Reserved.